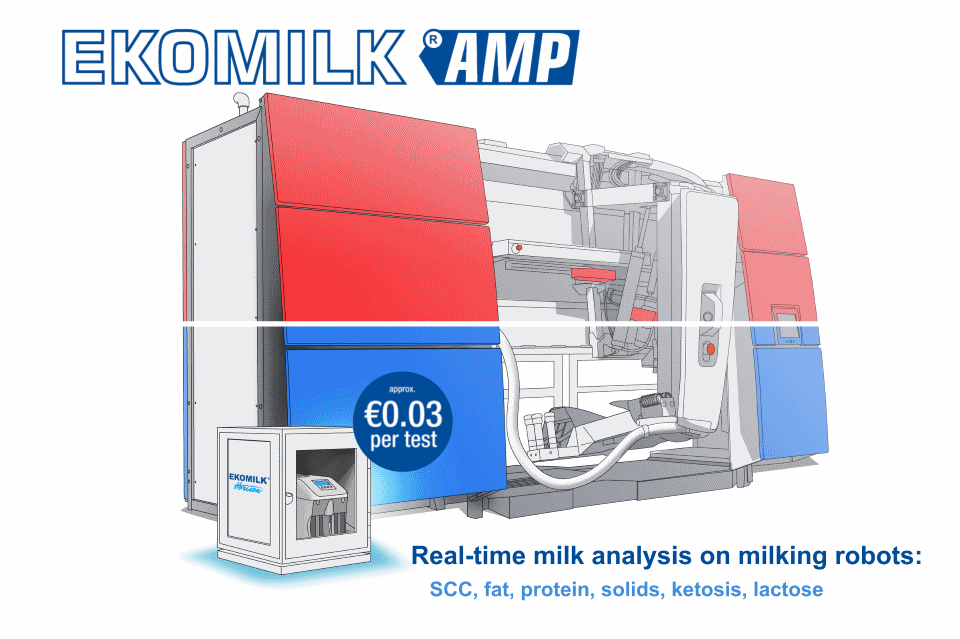 Demo tour: free demo on your robot
From June 2019 till November 2020, places can be booked for the free Ekomilk - AMP demo tours on milking robots. During such demo tour, you can obtain free milk analysis on milking robots during half or one day of demo on your farm of choice. In this way, you can evaluate the Ekomilk-AMP system on your robot and analyse all or most cows on your farm, besides your bulk tank. Places are not guaranteed until enough participants have subscribed for a specific subregion in your country (regions are America - Europe - Asia - Oceania). You'll receive an email with a date proposal. The half day evaluation period on your milking robot can be extended via written agreement under specific conditions.
Book your free cow milk analysis
Milking robots: introduction
Milking robots are growing in popularity on dairy farms worldwide.
Robotic milking, or automatic milking systems (AMS) implies that the cow more or less chooses when she will be milked.
The most famous companies and brands (models) for milking robots are probably these ones:
Lely Astronaut,
DeLaval VMS (VMS refers to voluntary milking),
Boumatic,
Fullwood Merlin,
SAC (SA Christensen) Futureline
Feel free to contact us with other brand suggestions. We did not yet test on GEA milking robots.
Sometimes we still hear the idea that via milking robots, everything will be automated and no attention should be paid to the dairy cows at all. As we heard over and again, such attitude can lead to decreasing milk yields, followed by lower milk revenues, sometimes aggravated by lower milk quality and according penalties in case of high somatic cell counts (SCC; subclinical and clinical mastitis).
Animal health, milk composition and milk quality, mastitis and udder health
What's going on with your dairy cows, how likely is it that they will have a good milk yield (production) and milk quality (somatic cells, fat, protein and solid content levels) in near and mid-term (future)?
How likely is it that the cow feeding has to be changed for a specific animal in the herd on the dairy farm? Any metabolic issues? Acidosis or ketosis? How is the milk protein level and milkfat content level compared to your targets? Any treatment required with antibiotics? Early dry-off? Reproduction and breeding planning?
And what about automatically diverting low quality milk (high somatic cells or other problem) into a separate bulk milk tank?
Contact us for more info or for an offer
Know what's going on, any time, any where.
We have performed field tests on various robot models, with the new Ekomilk Horizon Essential and AMP system (July 2017-November 2018). Click here for an introduction to Ekomilk Horizon & AMP (pdf).
The system will be available from around April 2019 (exact timing depends on your region). The Ekomilk-AMP system operates fully autonomously and results, warnings and critical errors are sent over SMS, email and an online app (you can configure which notifications you get and how). Every analysis costs around $0.04 and accuracy figures compared to official lab results are (very) high. Click here for examples about realistic correlation coefficients for SCC, fat, protein and solid content.

How does it work?
First put your robot into "Sampling" (control, Shuttle) mode, by following the procedures prescribed by your robot manufacturer (first pause the robot etc). Instead of connecting the Shuttle or any other brand like Ori Collector or VMS sampler, Ekomilk will be connected. More accurately: Instead of the Shuttle (including its internal "spoon" or sampling head), the special electronic sample cup (like an electronic vial) of Ekomilk Horizon for milking robots, will be connected to the milk sampling line of the robot. This should work with all models of milking robots which work with the ORI Collector (ORI Sampler for milking robots) and which can create a certain milk sample volume without needing external components. (for instance in the case of GEA robots, an extra adaptor kit could be needed. Please refer to the connection of the ORI Collector to understand what is needed for your robot. From Q4 2018, there will also be a partnership program which might allow you to test Ekomilk-AMP on your robot under advantageous conditions. Please contact us for more info.
For Ekomilk-AMP, minimum 10ml is needed but between 30ml and 60ml is recommended for better accuracy. Please use the same milk sample tube as provided with your Shuttle (Ori Collector, VMS sampler) to connect your robot to the Ekomilk electronic sample cup. Please follow the same connection procedure and cleaning procedure for the sampling tube as prescribed by your Shuttle (Ori Collector, VMS sampler). The Ekomilk-AMP system does not need the air pressure. Please check with your robot supplier whether you can leave the air pressure outlet unused during sampling. If any doubts, please contact us or your robot supplier.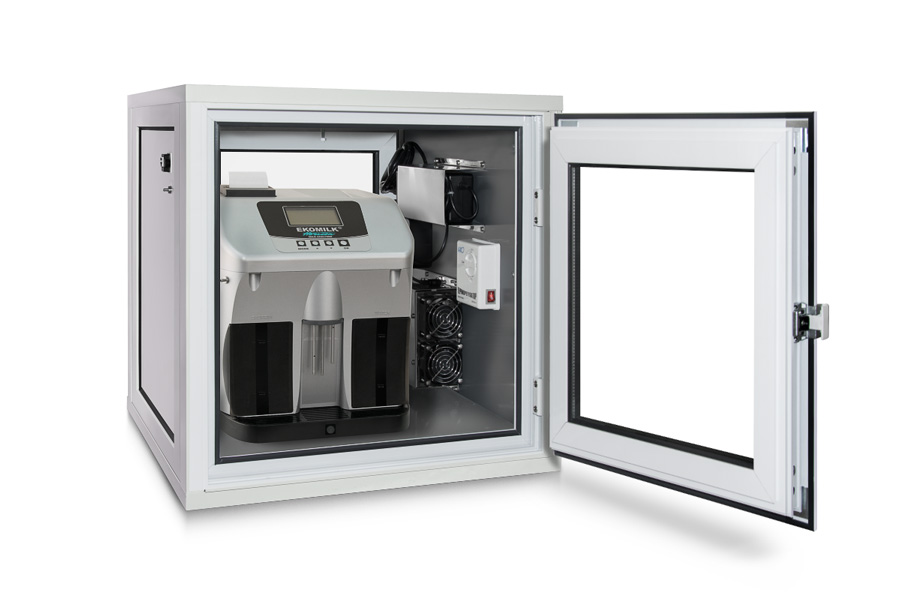 In yellow you can see the (here symbolic) milk tube which connects Ekomilk-AMP with the milking robot. This tube should be the same official type (ICAR approved) as used with the Shuttle or ORI sampler (ICAR approved). On the above image, indicated in white colour on the Ekomilk, there is a special digital sample cup. This special "robot" cup contains sensors to monitor the connection between milking robot and Ekomilk. Together with this cup comes also a detection and rinsing mechanism which allows automatic regular rinsing of the system , especially at the end of the day or after longer time intervals. The robot version of Ekomilk-AMP includes an extra package which includes all these essential components (without, the Ekomilk-AMP system will not be able to work automatically with the robot).
Slideshare: technical installation details
Maintenance and repair
There is a special version of the online remote error diagnostics AMP module and the Ekomilk AMP maintenance module included with each robot version of Ekomilk Horizon. These modules will monitor both your robot connection to Ekomilk-AMP and your Ekomilk instrument continuously. You can receive notifications via SMS, email and app when an error has to be solved or when maintenance is required.
Ekomilk&AMP availability
The special robot versions of Ekomilk Horizon Essential (EHER) and Ekomilk Horizon Unlimited (EHUR) can be shipped from October 2018. Ekomilk Horizon Essential only measures SCC (somatic cell count).
Ekomilk Horizon Unlimited measures SCC (>40 000 cells/ml), milk fat, milk protein, total solids content and optional ketosis risk indicator and milk lactose content.
R&D partnership program
Ekomilk&AMP keep adding features and improving accuracy of milk analysis thanks for AI (ML, self learning algorithms).
For robots, a partnership program will be launched to develop a milk sampler which works in "real-time", during the milking, without needing the Shuttle (control, sampling) mode (which causes delays). We warmly invite all questions and suggestions.
Configure here your own Ekomilk-AMP solution
Click here if you don't like long forms or if you want us to call you back